The most advanced cylinder valve designed for Airgun Charging
---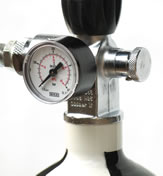 Introducing our innovative new 'Jubilee Range' 300 bar cylinder valve, dedicated to safe filling of pneumatic pre-charged airguns.
MDE have long been a market leader in surface valves for SCUBA cylinders, extending the test life for Airgun enthusiasts to 5 years.
The new Jubilee design features an integrated gauge, improved bleed and a rubberised handwheel.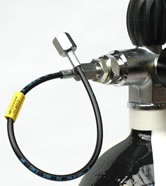 On the inlet we've also incorporated a patented device which automatically restricts the flow rate into the airgun, even if the valve is fully opened, allowing for a slower, safer fill.
The 'Jubilee Range' gun valve is uniquely certificated for CE together with Pi mark impact test (EN ISO 10297:2006).
---
Available models:
HGV300 – Jubilee Gun Valve 300 Bar M25x2
HGVH300 – Gun Valve Kit including Gauge, Bleed and DIN Hose