Professional quality filtration for breathing air applications
---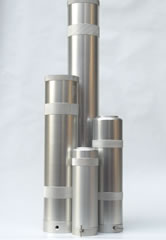 Midland Diving manufacture a range of high pressure breathing air filtration systems which exceed the highest standards, using high quality anodised aluminium and designed for ease of operation and maintenence.
Whether you require a complete system or a Nitrox final stage, our range of units offer reliable, tailored solutions.
Specification
Maximum working pressure 414 bar
2 x 1/4 BSPTF inlets for air and safety valve
1 x 1/4 BSPTF outlet
Bleed port for condensate
Burst disc for safety
Requires an MDE Disposable Cartridge
---
Also available
Our Series 45 and 50 Coalescing Separators offer easier maintenence and higher efficiency than conventional mechanical separators, extending chemical purification cartridge life by up to 15%.
Complete systems including a separator, single or twin filters, valves, pipework and mounting bracket can be built to order, for any flow rate from 2.37 to 23.7 litres/second.
---
Available Models
H015075 – Series 45 Basic Filter Unit (L-XXXX)
H034030 – Series 45 Coalescing Separator Unit (L-XXXX)
H015700 – Series 50 Basic Filter Unit (LB-XXXX)
H021130 – Series 50 Coalescing Separator Unit (LB-XXXX)
H034100T – Series 50L Basic Filter Unit (LC-XXXX)
H034150 – Series 50XL Basic Filter Unit (LD-XXXX)
Please contact us for information on complete systems and tailor-made options