MDE puts safety first with high pressure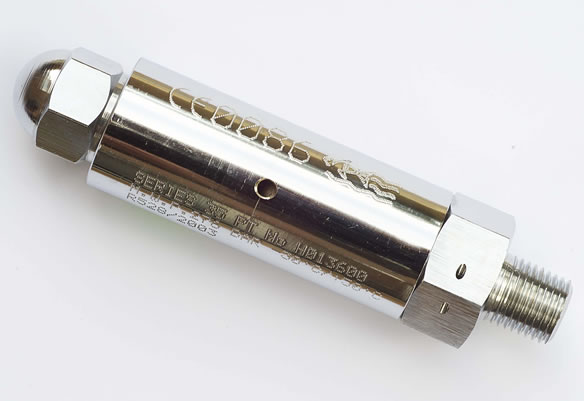 When it comes to high pressure, we know safety is paramount. Our safety valves are continuously and rigorously tested to the European PED standard, with test and conformity documentation available upon order (additional charges may apply).
All models feature a manually adjustable safety relief vent pressure, and can be optionally factory set, wire-locked and tagged for a small £3.40 charge (please quote code ZWL and your requested setting when ordering).
Available Models
H013670 – Series 35 Safety Valve, 1/4″ BSPP 138-275 Bar range
H013600 – Series 35 Safety Valve, 1/4″ BSPT 138-275 Bar range
H013665 – Series 60 Safety Valve, 1/4″ BSPP 275-414 Bar range
H013675 – Series 60 Safety Valve, 1/4″ BSPT 275-414 Bar range
Refurbishment Kits contain the key elements to keep your safety valve working to high safety standards and exceptional performance:
H013645 – Series 35 Safety Valve Refurbishment Kit
Contains:
1 x M013602 O-Ring
1 x M013603 Anti-Extrusion Ring
1 x M013604 Seal Retaining Spring
1 x M013605 Safety Valve Ball
1 x M013606 Series 35 Piston
H013669 – Series 60 Safety Valve Refurbishment Kit
Contains:
1 x H013663 Series 60 Piston complete with O-Ring and Anti-Extrusion Ring
1 x M013604 Seal Retaining Spring
1 x M013605 Safety Valve Ball