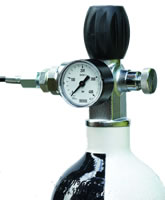 Midland Diving Equipment Ltd, Leicester launch an innovative new 300 bar cylinder valve dedicated to safe filling of pneumatic pre-charged airguns.
This new valve incorporates a patented device which automatically restricts the flow rate into the airgun, even if the valve is fully opened.
This safety feature now allows the operator time to close the valve at the correct charge pressure for their particular airgun as indicated on the built-in gauge. The valve also has a new rubberised easy grip tactile handwheel.
The valve will be available in 3, 7 & 12 litre 300bar cylinders from your airgun dealer.
---
For more information contact :-
Midland Diving Equipment Ltd, 57 Sparkenhoe Street, Leicester LE2 0TD.
Tel: +44(0)116 212 4262 Fax: +44(0)116 212 4263
www.midlanddiving.com