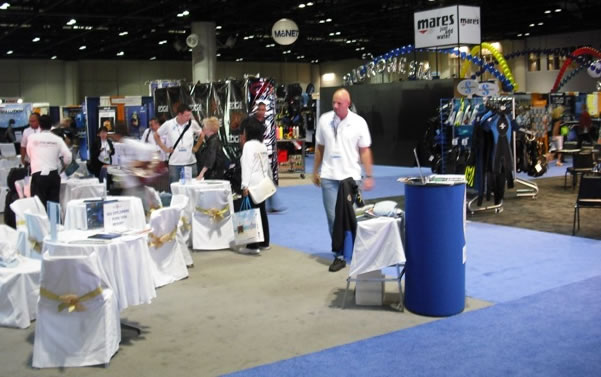 We arrived early at the convention centre to complete the final touches to the MDE booth, and found a band playing in the entrance hall. With the inaccessible power sorted, air con on, and our brochures and gifts at the ready, we prepared for opening day of the DEMA Show 2009.
Early contact was made with both Diver magazine and Sport Diver, interested in featuring Midland Diving in their upcoming DEMA articles.
It was a busy first day, meeting lots of people with many enquiries for MDE products – from distributors looking for diving valves and equipment, to interest in our compressor valves, filtration and accessories, and even some people looking to purchase our moulded cylinder tops for retail displays!
Feedback was very positive, our visitors commenting they hadn't had much luck in their search for quality valves until they found MDE.
Thanks to all those who came to see us on day one, from distributors to people simply wanting to play, and even some of our UK dealers like Galaxsea Divers!