Show Report: 3rd November – Setup Day
We arrived at the Orange County Convention Centre in the morning, and found our booth really standing out from the crowd. Roger Ellis' backboard artwork and design look amazing – a real eye-catcher.
We began setting up – unpacking the boxes of cylinder valves, bands, airgun charging kit and our moulded cylinder tops for modelling it all.
---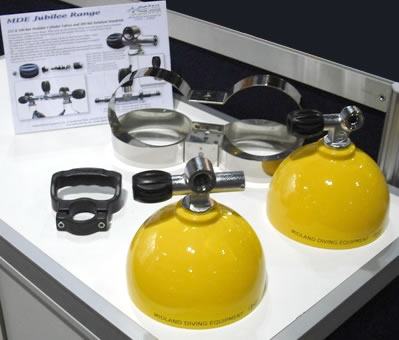 Teething problems such as the out-of-place banner were quickly fixed, furniture was moved into place, and we began the valve display, getting them just where we wanted them.
After a break for lunch and stopping to solve the problem of a completely inaccessible power supply, we spent a while looking around other exhibits, meeting companies and talking to some interested people.
The build took approximately 5 hours – time well spent making us ready for four days' successful exhibiting… Let's just hope that tomorrow they remember to switch the air con on!